About Geoff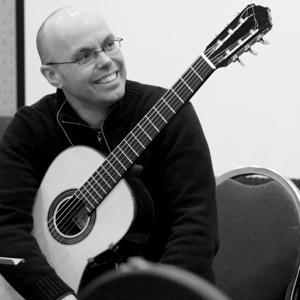 Geoff studied jazz composition, arranging, and guitar performance at Berklee College of Music. Additionally, he studied classical guitar performance, conducting, and composition at Bridgewater State College. Independently, he has pursued the study of classical guitar with Berit Strong and John Bigelow, and jazz guitar with Ron Bosse. He has extensive performance and teaching experience in a wide range of musical styles.
"Your classic repertoire was a perfect elevating complement to the rest of the festival, and was a valuable component of MusicFest."
~Lorraine Saltre and John Bigelow, directors, Washington Square MusicFest
Geoff plays and listens to music across many diverse styles and genres and loves collaborating with other musicians. His newest pursuit is a non-traditional quartet, 22 Strings, with two classical guitars, electric guitar, and electric bass. He works regularly with duet partner, Phil Burr. He played electric bass in Specimen 37, a progressive/experimental rock band (sadly now on hiatus) and continues to make music with former members of that group. He played electric guitar (and occasionally sang) in several groups throughout the 90's and 10's. These bands ran the gamut, from improvisational jam bands to semi-unplugged to progressive rock to GB/wedding to (however briefly) a Doors cover band.
Geoff's first instrument was the French horn, and he continues to play brass, these days on trumpet, flugelhorn, and cornet.
In addition to pursuing his passion for music, Geoff earned a BA in philosophy from Bridgewater State College and an MS/LIS from Drexel University.