Wedding Music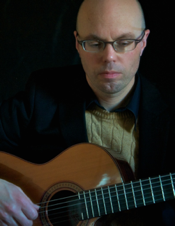 Music is a crucial part of a wedding ceremony. It establishes the mood and can help guide the pace of your service. The intimate sound of the solo classical guitar adds a unique and special feel to a ceremony.
"SO BEAUTIFUL! You pluck my heart strings. What's the ceremony without your music? It adds the right touch to the whole day."
~Caitlin, wedding client
Geoff enjoys working with couples, officiants, and coordinators to help choose just the right music to accompany their ceremonies. He's also available to play background music for your cocktail hour or dinner.
Fees are very reasonable but can vary depending on the scope of your event, location, etc. Please visit the contact page to arrange a free consultation and quote. Or, please feel free to email music@geoffvalentine.net or call (857) 891-0996 for more information.
Musical Possibilities
Processional
Queen Elizabeth's Galliard, Dowland
The Round Battle Galliard, Dowland
Jesu, Joy of Man's Desiring, Bach
Canon, Pachelbel
Prelude (from cello suite 1), Bach
Marry Me, Train
The First Time Ever I Saw Your Face, MacColl (famously sung by Roberta Flack)
Interlude
Bist Du Bei Mir (Be Thou With Me), Bach
Sonnet, Valderrabano
Scarborough Fair, Trad
What a Wonderful World, David & Thiele
Pavanas, Milan
Lagrima, Tarrega

Recessional
Mrs. Winter's Jump, Dowland
Alman, Johnson
Romanza, Anon
Kemp's Jig, Anon
Here Comes The Sun, Harrison
Beautiful Day, U2

This is just a partial list. Geoff has a large music library and is happy to meet with couples to play samples of possible selections. Also, given sufficient time, he will learn new music for his clients' ceremonies and is not limited to any particular genre or style.